Do It Yourself
Affordable Poster Prints
As designers, we read lots of articles claiming that "print is dead." We wholeheartedly disagree. It's not that we don't think the Internet is a great tool for marketing and promotion, but we believe that the tactile experience is an important one, especially in theatre promotion. You want to reach people who are out experiencing life firsthand, not just sitting at a computer. Theatre posters are a great way to get someone to stop and look. Strong design will pique interest and fill seats.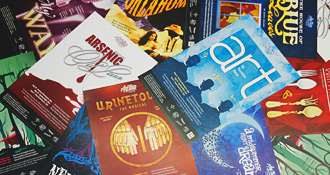 We want to support you in your efforts to effectively promote your play, musical or event. One way that we do this is by offering you professional quality poster prints. We work with great printers which allows us to pass along significant savings to you.
Once you've customized your poster, choose from three different size poster prints – 11 inches by 17 inches, 22 inches by 34 inches and 33 inches by 51 inches. The smaller of the sizes is great for displaying all over town and our low minimum order makes it inexpensive to promote your play or performance. The larger sizes are perfect for a lobby or a marquee and you can order one at a time.
Learn how you can take control of the artwork