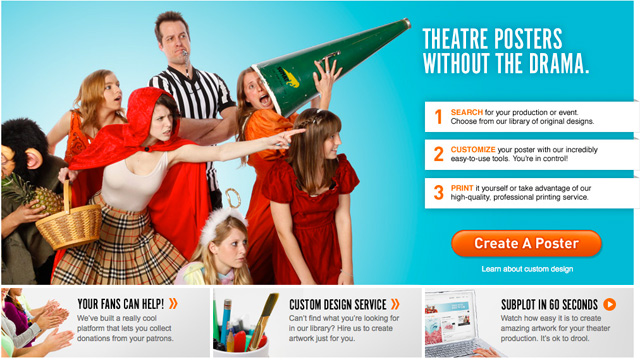 It's alive! After two years of dreaming, designing, engineering and a lot of long days, we're thrilled to see the website launched. This all started with the idea that there might be a better way for theatre companies to promote their productions. That initial spark is now Subplot Studio. We can't wait to see what you think of it, so let us know. We definitely couldn't have done this without help from a lot of people.
Thanks to Kevin Harris from the SLO Little Theare for all of his insights and lining up our first photo shoot – that was seriously one of the most fun afternoons we've had in a long time. To Elliott Johnson for the great photography. To Jim Glinn, Laura Pickering, Mike Salucci, Carson Chen, Jo Anne Miller, Kyle Weins and everyone who was involved in SLO Seed and the Innovation Quest Bootcamp last summer. After slapping us around on the first day, you guys provided us with the direction and motivation we needed and you held us accountable. Thanks to Laura, Candice and Nicole, our incredible interns. To Lindsay and Brooke from American Perspective Bank and Paul Parker from Parker and Sander for helping us become "official". Thanks to Bret, Shawn, Kurt, Andrea, Scott, Jeri and Nancy at Etna Interactive for building the site – you guys are the most solid team around and we're so glad that we have had the opportunity to work with all of you and share office space! Thanks to Kathy Smith for the great breakfasts and the hospitality. Thanks to the Theatre Communications Group for letting us crash your party. Thanks to all of the artists who have contributed to helping us build our library of incredible artwork. Of course, thanks to Jeff, Sean, Laureen, Casey and the rest of our families for being so supportive and understanding. We couldn't have done this without all of you.
Thanks to Crooked Kilt's Frisco Burger and Black Sheep's mac n' cheese and Guinness coma-inducing lunches. Thanks to Google for letting us create over 761 documents and spreadsheets. And thanks to Dropbox for keeping us sane and organized.
Visit Subplot Studio.