Subplot Studio collaborates with theatrical licensing companies to create professionally designed artwork that complies with your license. Whether you're looking for a show logo, an easy to customize poster, layered artwork or other marketing resources to promote your show, we've got you covered. It's fast, easy and affordable.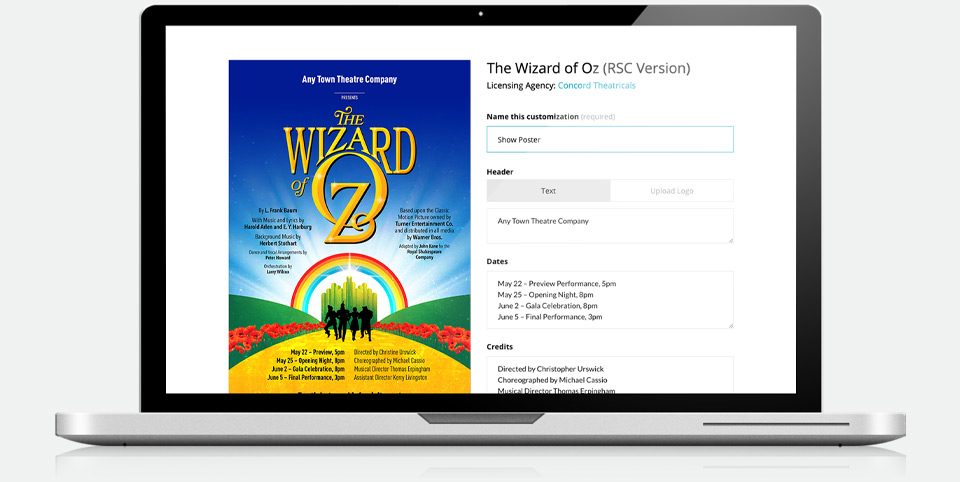 The Subplot Studio Difference
Subplot Studio offers professionally designed, license compliant artwork and marketing resources that make promoting your musical or play easier than ever. By using our easy-to-use online customization tool, you can create and download a poster for your next show in just minutes.
Fast, Easy & Affordable
In just minutes, you can choose a poster design, add your unique show information, and download a high-resolution PDF.
Professional Design
We create beautiful, effective artwork for musicals and plays. Today, this artwork can be found promoting shows all over the world.
License Compliance
We work with your licensing company to ensure that our artwork complies with your license. You'll never have to worry about it again.
Educational Pricing
If you are an educator or are associated with an educational theatre program, we're happy to offer you educational pricing.
Customize Online
We've built an incredibly easy-to-use customization tool. Customize your poster in minutes. No software or design skills needed!
Customer Support
We take pride in providing the highest level of customer support. If you have a question about anything, please call us!
Have a question? Give us a call at (805) 996-0808
"I just want to say thank you for the wonderful posters and printed materials you provided us with for our recent school production of Annie. They were spectacular and truly added to the production!"
"I will absolutely be reaching out for some poster help, thank you so much! Thanks so much for making this aspect of my job A LOT easier! I'm telling every theatre director I know about you guys. Your work is awesome!"
"I wish I had known about your service before now. I'm sure other high schools would love it too! We'll be using you guys as much as we can this season and in the future."
"Thanks to Subplot, patrons see our company in a new light. Our image has never been stronger. We're experiencing greater attendance, more donations and increased community support."
Promote Your Show with Professional Artwork
Creating artwork for your next performance has never been easier. Whether you are looking for a show logo, a poster or more, Subplot Studio has great options for you and your budget.