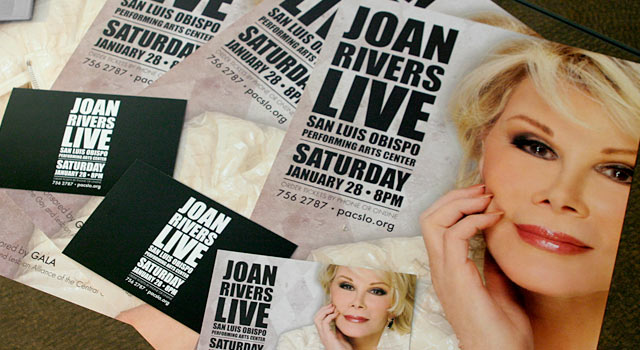 These posters and postcards were part of a recent custom project that we worked on for an upcoming event in San Luis Obispo. There aren't too many faces that are more recognizable than Joan Rivers. So, when we were asked to design a poster and accompanying postcard we knew that it was pretty important to feature her, so that's exactly what we did. We decided to use a subtle texture in the background and focus on a more typographic solution. The bold type creates a strong visual element that commands attention but doesn't compete with Joan, herself. We're pretty excited about this show and we're glad that we were asked to create the artwork.
The performance is sponsored by GALA, the Gay and Lesbian Alliance of the Central Coast, and it's happening at the Performing Arts Center in San Luis Obispo. I've seen some great performances at the PAC – BB King, Robert Cray, Stomp, Bill Cosby, Buddy Guy, Afro-Cuban All Stars and several others. We're fortunate to have a venue that showcases local, national and international talent. This time it's Joan Rivers.
From what everyone says, Joan puts on a great show and gets the audience going from the second she steps on stage. It should be a fun night.